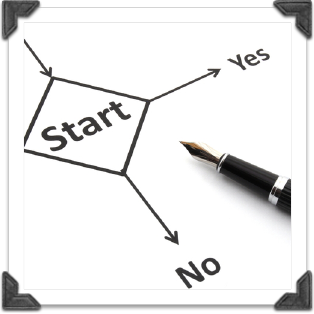 So your application / blog / service is ready for release! But, are you sure you didn't forget important features? In many cases the joy of creativity creates the need to share and show off our creation to overlap our viability senses losing sight of the obvious.
For the reason above, we have compiled a checklist to be applied before a new project release. Here it is, featuring a explanation of necessity for each item:
1. Disclaimer / Terms Pages and Contact Form
Believe it or not, there are people that read the Terms of Service and Privacy Statements. Especially with services, people are concerned about their privacy. Moreover, the Terms of Service and Privacy Statements are obligatory in many countries and may protect you and your investment against malicious claims. Nevertheless, although the Terms of Service and Privacy Statements are legal documents, don't look at them as such; these documents have to be written in a simple and natural language because there are people reading them.
In the documents above you have to include contact details, but, apart from that, in any kind of service or market you have to give your visitors an easy way to contact you for any queries, suggestions, or anything else they may want to tell you. You have to provide a "voice" to your audience. and the easiest way to do that is to implement a contact form on your site. Of course in the case of a blog, you have to implement commenting too ;) In any case, don't forget to filter user input for spam, or either your visitors or you will have a constant headache…
For the contact form on WordPress implementations, you may use the WP ContactForm plugin and of course do enable the Akismet plugin for filtering spam.
2. Social media and RSS
Whatever your promotion plan might be, it should include social media promotion. Concerning the implementation scope, you should:
With the items above, you may select to promote networks that promote your business; do not stay only on the major networks, but include smaller networks that are on your niche.
Don't forget to support RSS feeds. RSS has a devoted audience and many people see RSS feeds as collectables. This is one of the reasons many services sites practice a blog – to promote their service. Apart from that, why not use another (frequent) visitors stream.
For better results, make your RSS feeds appealing to readers, e.g. put content images on your feed.
3. Search Engine Optimization
Even if your plans include other visitor sources than organic search, there are a number of reasons that require you to optimize your pages for search engines, both in terms of on-page and off-page factors. The number one reason is branding. Word-of-mouth visitors or visitors seeing your brand in an advertisement should see your site on top of search results if they query your brand.
Apart from that, things move fast on the Internet; you may grow fast and this will create an opportunity for copy-cats: if you don't rank on your brand, they will be stealing your traffic. Moreover, even affiliates may be seen as competitors, since they may "steal" your easy traffic – your brand.
4. Speed Optimization
Many people believe that speed optimization is unnecessary, but site (loading) speed is essential to user experience, and the truth is that visitors are impatient and they won't wait. Conclusively, do use a tool to evaluate and optimize your site for speed like Yahoo! YSlow or Google PageSpeed.
A fast way to increase site loading speed is caching and, depending on the platform you use, caching could be easy to implement. WP Super Cache and W3 Total Cache are very popular caching plugins for WordPress. Also note that the aforementioned plugins do cover and other suggestions of speed optimization tools, like asset minification and headers manipulation.
5. Monetization
If you have made a robust monetization plan (if you haven't, you should), you should have included potential profits. There is always a tug o' war between branding appeal and monetization features: without risking your brand appearing over-monetized, you should not let opportunities pass by you as many site features may result to potential profits.
6. Newsletters
Newsletters are a significant source of potential profit and are easy to implement, through an external service like AWeber. Newsletter forms are not monetization intrusive on visitor's eyes, but may prove a huge source of profits in the future.
If your monetization plan uses advertising, make sure that the advertisements match the site's theme in order for them to appear less intrusive.
7. Social Media
Social media should always be used when it comes to promoting a web property no matter what the niche is. Many website owners choose to become active in social media quite some time after releasing their site to the public. This is a valid strategy since in the beginning and without a good following, your time spent in social media is often worthless. But one thing is for sure. You should register your social media accounts before releasing your website. This should happen because you never know who might register your brand's username just because they found it cool. It has happened to my clients quite a few times, and one time they reached out to us asking for payment in order for us to be able to acquire the username on Twitter from them. So even if your immediate plans don't include social media, register your accounts as soon as possible!
8. Site Analytics
Having a tool that tracks your visitors and information about them, will become the most invaluable tool in your site's life. Being able to know who brought visits to your site, what social media channels work the best for your niche etc., will help you tremendously in the long run. It can be a great motivational/demotivational tool too, so try not to make analytics your everyday ritual, you don't want to become a stats junkie! By far, the best analytics application is Google Analytics.
9. Always have a plan.
Long gone are the days of "build it and they will come". Now you NEED to have a solid strategy for both monetization and promotion. You need to create a post schedule, prepare some posts beforehand in order to be able to always keep up with the post scheduling, define dates of your next steps etc. You need this in order to be able to take your blog to the next level and make it something more than "your child".
The list is not short and I hope that you won't be frustrated or disappointed, but find ways to start your blog being better prepared. Do you have any other points-bullets, you think we should add to the post and are important things prior a website's release to the public? Share your thoughts! ;)