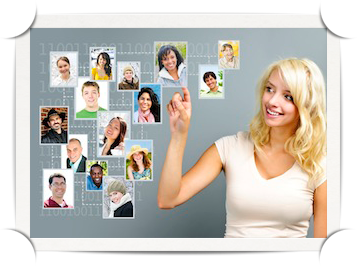 Having an online business includes just about every and any business or niche possible. With the hundreds of ways to promote, advertise and sell your products, services and website, it can be confusing as to which methods are worth our time and investments.
Here's a small guide on which social network you can use and invest your time in according to what kind of business and online presence you're maintaining. This is, of course, a complement to your already existing websites and blogs. Of course, this doesn't necessarily mean that you need something set up already – you can get started just with these social networks, without having a website, and work your way up from there!
If you have or are…
– An online store with tangible products: This is the most widespread thing on the Internet. We see wonderful e-shops popping up everywhere! Online retailers or manufacturers or even hobbyists should use:
Facebook: to make up a fan page. It's the easiest way to upload groups of your products' photos for free, categorizing them perfectly so you can share them with whomever you like. You can also buy Facebook ads, and cheaply advertise your Facebook page or any other online presences you showcase your products on.
Twitter: Blend Twitter with Facebook to let your followers know when you've uploaded a new product, have new sales, offers or discounts, or what you're currently working on.
Pinterest: Use wonderful imagery to group up your products in categories and show off your products on boards. You can "pin" interesting content or similar products to help bring followers to your pinned images of products, which makes for wonderful free advertising.
– Consulting services: Consulting services can mean Internet Marketing, advertising, wedding plans, catering, counseling, coaching, etc. This can also mean you're selling e-books or subscriptions to your website. Keep in mind that whatever you're promoting, it really needs to look professional and trustworthy. This means that it's preferable to have a separate main website or blog and complement it with social networking and social media.
Facebook: Keep a fan page if you update things frequently. Perhaps you'd like to keep your followers up to date on what you're working on at the moment. You can also use Facebook to post your new articles or share interesting content.
Twitter: Tweet your updates, meaningful thoughts, helpful quotes, and frequent updates to your business website or blog.
– Mommy blogger: Mommy bloggers like to maintain their own blog or favorite topics or niches from the comfort of their own home and be their own boss. Mommy blogging relies heavily on advertising, gathering many subscribers, readers and followers, and sometimes promoting their own freelancing work.
Facebook: Fan pages are great here! The heavy use of eye-catching pictures will help all mommy bloggers get their subscribers and keep them.
LinkedIn: If a mommy blogger is engaged in some kind of commerce, like handicraft or online services, they can tell their followers about them, their qualifications, and what they're currently working on.
Twitter: Mommy bloggers can tweet their inspirational quote or gossip of the day, and inform their followers of their new content instantly.
Pinterest: Pinterest is wonderful for mommy bloggers! Pictures of recipes, handicraft, or even their children and pets will instantly attract followers to them and their content.
Tumblr/Instagram: Like Pinterest, mommy bloggers can share family pictures, food pictures, craft pictures, anything that defines them and will show their followers what they're into.
– Article writer / Copywriter: Besides the definite blog/website, article writers and copywriters must be able to successfully showcase and promote their work. If one is a ghostwriter, and doesn't want their name seen, they can always just share the article in mind with their employer's name on it on social media.
Facebook: Fan pages are useful even for this type of work; writers can use snippets of their copy as examples, or update on what topics they're currently working on.
Twitter: Writers can tweet to their fan base about their new work, or what they're currently working on, or even gain insight and inspiration from their own followers – or hey, even inspire them back as well!
– Photographer: This photo-intensive hobby or work obviously needs emphasis on pictures! The more photography can be shared, the more people will be interested in the content.
The blog/website can be spruced up if the owner invests in a WordPress theme especially aimed at photography.
Facebook: Wonderful for setting up the perfect – and most importantly, free – portfolio. You can divide your photography into categories using Albums and even make a fan page.
Pinterest: It's almost as if Pinterest was made for photography! Use boards to categorize your photography content and obtain a great amount of followers for your work.
Tumblr/Instagram: The best way to showcase your work to a vast number of people that can follow you and your work in the easiest way possible.
These are just a few examples on how you can utilize the different social networking websites to promote and showcase your work. Read more about what are the most popular social media and social bookmarking sites on our other post and start promoting your work today! ;)