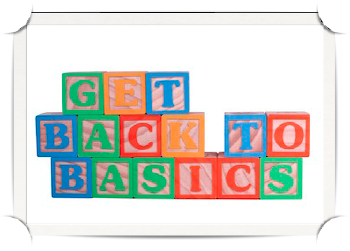 One thing is for sure: when you're first introduced to Blogging and Internet Marketing, there are a million ideas floating over your head as to what type of blog you should start and/or what kind of products to create. Hopefully, you will easily find what excites you the most and decide to go with that. So now is the time to move on to actual work and let's start with the most important decision, the domain name.
 Why this guide, why now?
People who have been following this blog, might thing that this post is very basic and that people who are in the internet marketing niche, should already own a blog. The truth is that even though some people know advanced marketing tactics, when it comes to setting up their blog, they're feeling lost. And that's what this guide tries to accomplish, make it much easier for them to start. If you have a friend that constantly asks you more information on how they should start, give them this guide, it will help them a lot! So lets get started!
You can now download the iBooks version of this guide for iPad from: https://bitly.com/create-blog-ebook
Choosing what domain name to buy
It's by far the most important decision that you are required to take in this whole guide (or at least one of the most important ones) because your main domain name will be with you for as long as you're into internet marketing or feel like sharing your thoughts with the rest of the world.
Helping you choose a domain name.
Finding a domain name can be such a hard task that can take anywhere from a few minutes to several months. Why? Because switching domain names is not something wise to do and because you're going to spend so much time in promoting and branding it that it would be a pity not to be something you love typing everyday!
Domain rules and how to find the best domain name for your needs.
If your website or store is a global one, targeting people from all over the world, then you MUST buy a dot com domain name. It's not something that if you don't, you're doomed, but it's the best practice to do and at the same time it's so much easier for someone to remember the name that it's a must. When someone asks what the domain of a service is, it's so common for a site to be a dot com that most people don't hear the part after the dot.
If your niche or target audience is local (and you're not a US citizen) you should buy a local domain extension. In my country, that would be the .gr. This is why the domain extension plays a very important role in Google when it comes to where it will let you rank. So if you're planning to sell products in Greece and your audience are Greek people you MUST get a .gr extension.
TIP TO REMEMBER: If you buy a .com domain you can later on specify a country that you want to target from the Google Webmaster tools but if you have a localized domain name you can't! So the rule of thumb is that if you are not sure where the road will take you, always get a .com and take it from there.
If it's the domain of your business, you're lucky, it has to be "businessname".com. If it's not available, check what the current owner is doing with it and try to obtain it from them. If that's not possible, then you will have to improvise. It's not the end of the world, since if the owner of the business name.com hasn't actively promoted the domain, in a matter of a month you will be able to surpass them in the search results even if their domain is the exact name of your business. Try to think of a combination that doesn't make the name too long, try to find something to add before or after the company name in order for it to still sound natural but at the same time stay professional. Something like mybuzinessname+inc.com or something like that. If nothing works out for you, go with the .biz extension.
Things to avoid: Avoid by all means any hyphen (-) or numbers in your domain name. Especially if your brand doesn't have a number attached to it, your domain will look spammy. Sure you can make it happen even with a number on the domain but just because there are exception this doesn't mean this is the rule.
If it's the domain name of a personal blog or a niche blog, then things get more complicated, just because your options are endless!
Golden Rules when searching for the perfect domain name:
Use your own name, if it's a blog that brands yourself as an expert or it's a personal blog. Should be a no no if you have a very strange name or if your name is darn long like mine (Angelos Papaioannidis) is. If it's catchy then by all means go for it!
Try to play with words. For example, the idea for the domain moneytized.com came to me after searching for at least three to four months for a domain name and could't get with something good. The original word is monetize, but since the blog would be about internet marketing, why not play with the word and add a y to it making it moneytized? And that's how the blog was born. ;)
Use keywords! Google says it no longer plays an important role in search engine rankings, but it still does. Not directly from the name; but if your name is bestwordpressthemes.com that's how people will also link to you. ;) Don't take it to the extreme, using a silly name just to fit as many keywords as possible (that would be a worthless domain) but you get the point.
Try to be evergreen. Even if it's a niche domain you want to buy, try to stay evergreen, meaning make sure that your domain will stay relevant for the years to come. Example: When I was looking out for a domain for a WordPress theme reviewing site, I ended up with TopCMSThemes.com because WordPress is so dominant that it would be really good to have a domain with the WordPress keyword in it but at the same time, you never know if in five years a new CMS won't be created and crush all the competition. So to stay on the safe side I picked the CMS keyword for my domain and now I'm sure that no matter what happens I'm ok and I won't have to start from scratch.
And what best aid to to help us find a great domain but some tools!
First off, you will need an instant domain search, a tool that immediately tells you if a domain is available as you type without a page reloading. That's a great time-saver. Instant Domain Search is one of the best in this category.
Keyword Combinators
The following tools are great when it comes to domain research including a keyword. You can enter your main keyword or something close to the perfect domain for you and they will suggest domains. Most of the times, the domains will be not of high quality but you might also spot the perfect 10!
The best ones are Domain Groovy, Domains Bot, Name Tumbler and NX Dom.
If the above tools can't help you find the perfect domain for you, here comes Wordoid! A tool that will create domain names that have no real meaning, but sound awesome! Try it; you will be amazed ;)
And again, if you're out of luck, use Name Station. You can create a competition by paying $30 (last time I used it) and people start suggesting privately to you domain names to use. When creating the competition try to be as descriptive as possible so people will get a good idea of what you're looking for. More than 20 people will suggest great domain names for you and you just have to select the winning one, register the domain and announce the winner.
You might ask, why someone would go into all that trouble of trying to find for me a domain name? Every time they suggest a good domain for you they get some points and when you select a domain name as a winner, they get a good cut from that $30. Clearly if you feel stuck and can't select a good domain, it's the best solution because no bot or machine can work better than many people trying to brainstorm on a single idea.
You have to try it, we were stunned with the ideas. ;)
When you find a great domain name that sounds amazing and fits your attitude, it's time to register it!
Registering a domain name!
Go to GoDaddy and let's gets started with the process.
Note: Most hosts also offer free domain registration with your purchase but we'll go to GoDaddy nevertheless. We do this because we don't want to mix up web hosting with the domain. If you ever want to change your host, it is not that easy to transfer the domain from the old host to a new one, so the best thing we can do is to save ourselves from the trouble and just spend $10 more for the first year.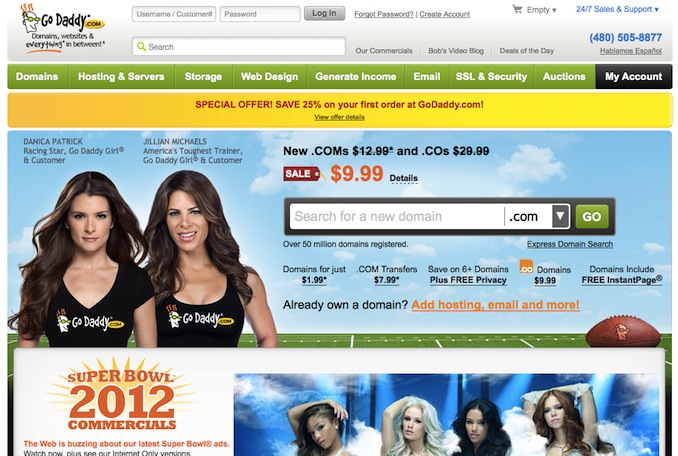 Type the domain you've found into the big search box and see if it's actually available.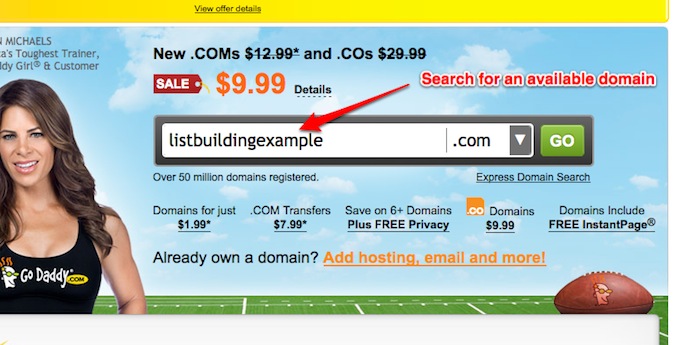 If you see it available, it's time to buy it!
Add it to the cart and continue to registration.

One ugly thing about GoDaddy is the number or up-sells they try to push to your cart. Don't know, maybe they're making a lot of money by offering everything possible to checkout, and they don't care if they lose clients due to lack of usability of the site. Anyways, enough with my rant! When you try to continue to registration, a pop-over will appear and will suggest that you should buy more extensions of that domain name. You don't really want that since you have the .com. Click the "no thanks" button as shown below. You might also click the "don't show this again" option too.
Enter your real information because in rare cases you might be asked for verification even years later, and failing to provide the correct information might make you lose the domain.
Next comes the registration length. Most of the times, GoDaddy suggests for you to buy it for 2-5 years but let's change it now to one year and see if you stick with it. You can always add more years to your registration later on, so why the rush?

Click "next" in the next screen as shown below; nothing of importance here.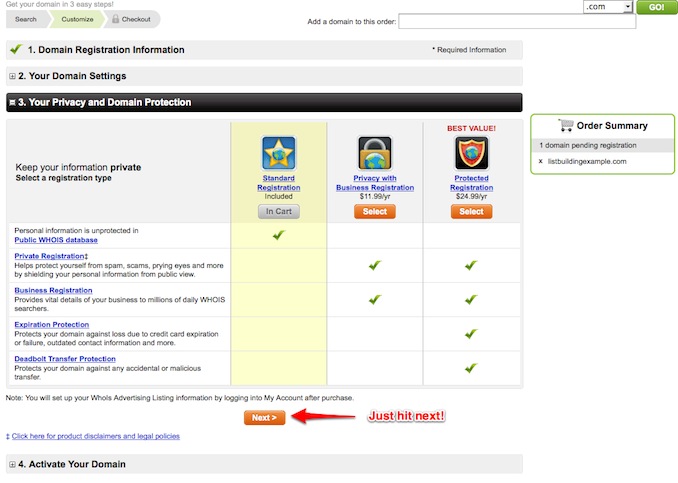 And again… Don't worry, we're near the end ;)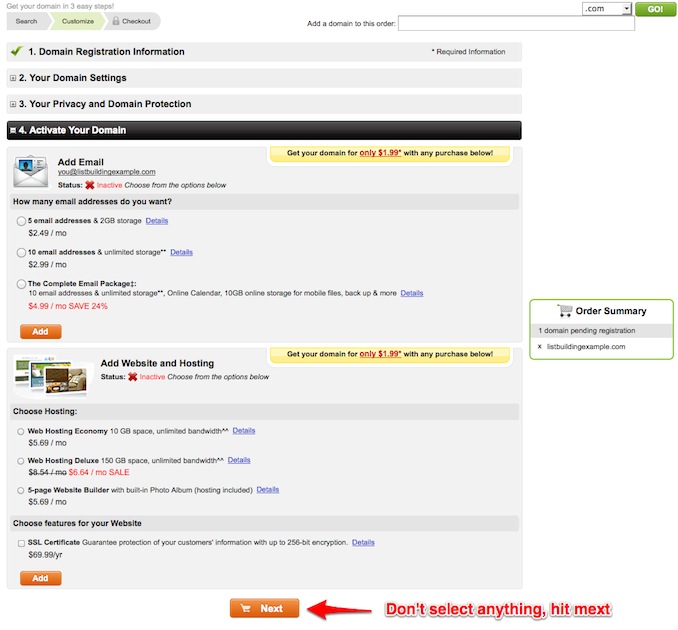 On the following screen, make sure that everything is as it should be and click "continue" to check out.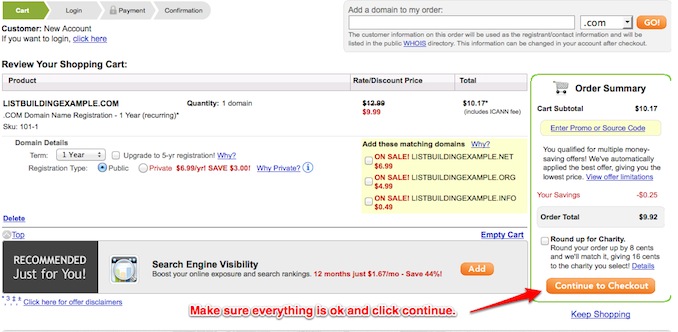 Since you're a new customer, you should add all your information and then continue to checkout.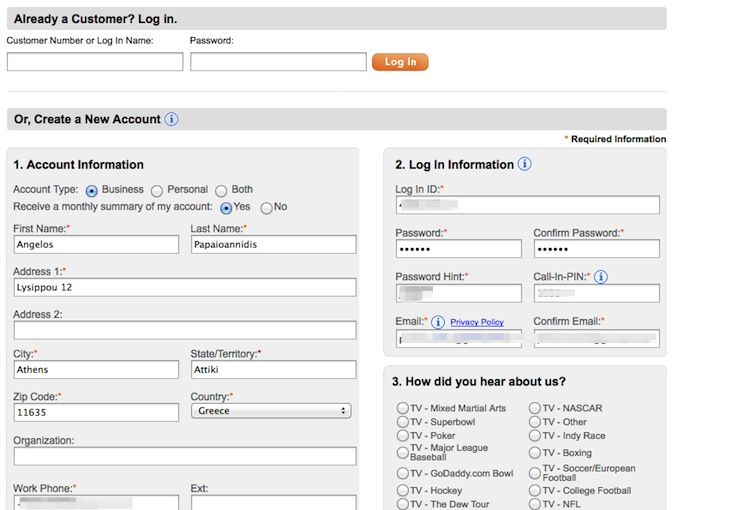 Select your preferred payment method and complete your order by entering all the relevant data and placing your order.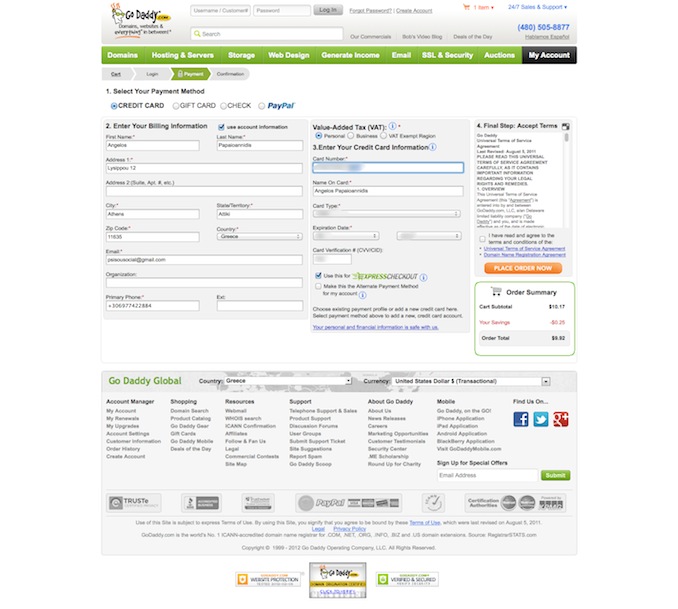 And we're done! You should be able to see the following screen on your computer.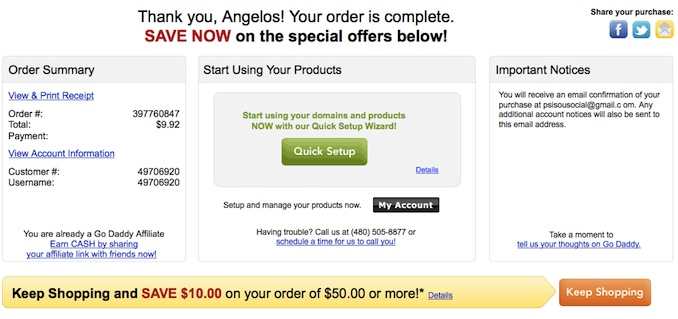 And make sure that you have received the confirmation email at your email address.
And we're all set! Now comes the hosting. ;)
Get your hosting account
It's time to go to HostGator and purchase a hosting account to tie it up with our domain name.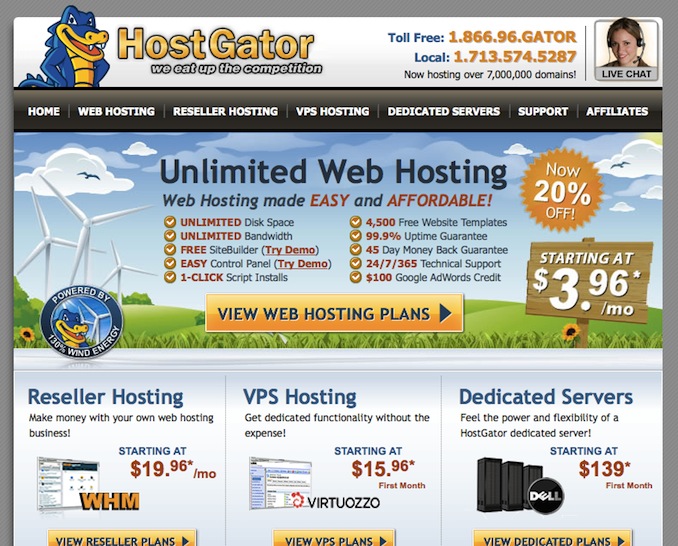 Click on the web hosting plans and check out the different options.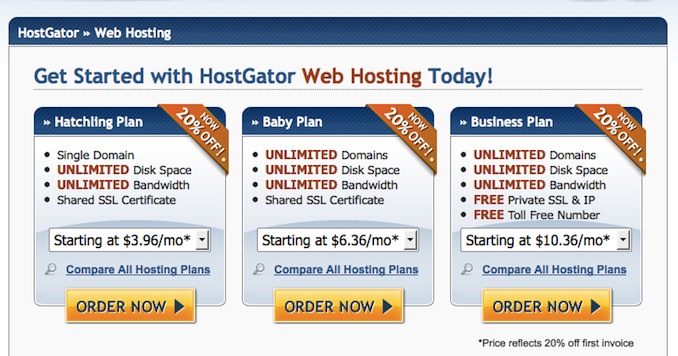 You are presented with different options. Their only actual difference is the domain's number and the dedicated IP options. Everything else is the same.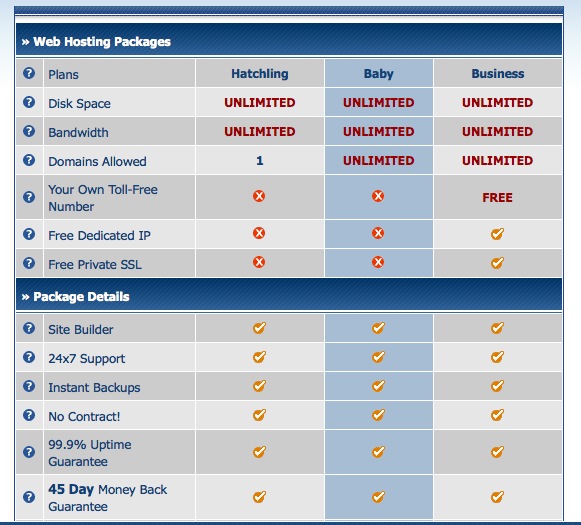 If you're planning to own only one domain, then you should go with Hatchling. You won't need something more expensive.
If you need to at least have two or more domains, select the Baby plan, and last but not least, if you need to host many websites (personal, business etc.) on the same hosting account, go for Business. The big difference is that you will own your own personal IP address and you won't be associated with any other sites that might be on the same IP address as you are. This is not something crucial but in the long run it's something you should check and see what other websites are hosted in the same IP, together with yours.
Note: Select your preferred option and see what payment you will want to make. The longer you preorder, the better price you will get per month from Hostgator. I'd suggest not to prepay three years: go for six months or something close to that.
After you click "order now", you will be presented with the following screen: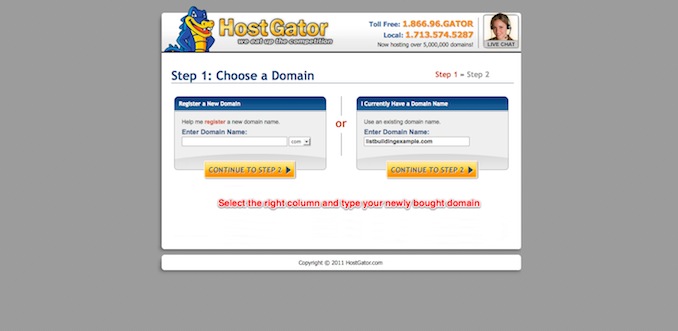 Select the right column and type the domain name you purchased some minutes ago.
Select the desired package, billing cycle and enter all personal and payment information as seen in the image below.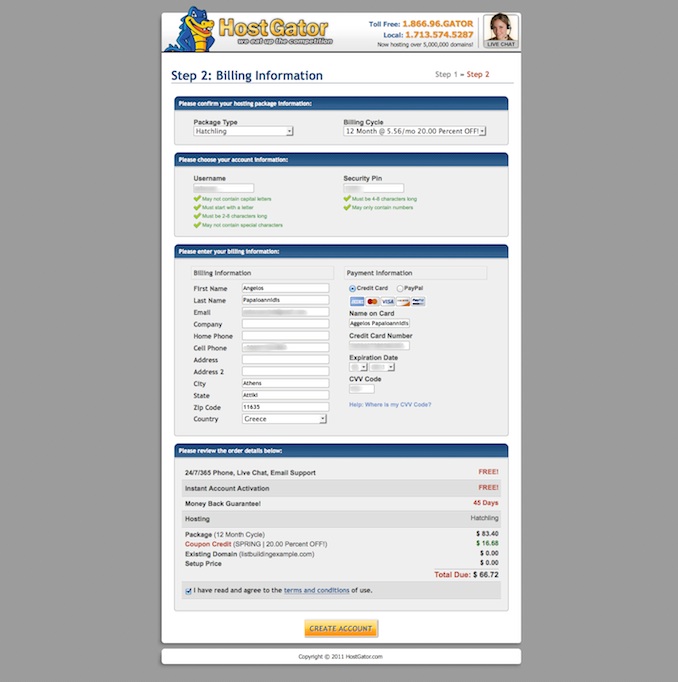 And that's it, you're done buying hosting too! :)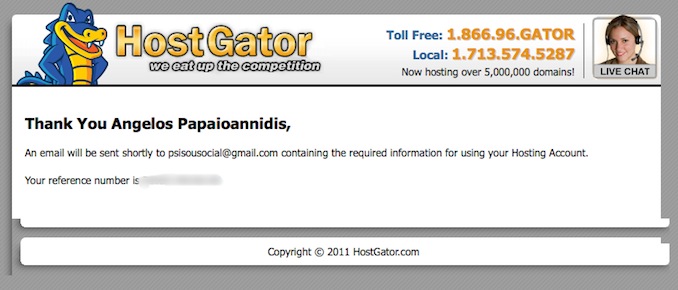 After some minutes you will receive an email from HostGator. If you don't, fret not! You will most probably get a call on the number you have provided in the registration and be asked about your information. They sometimes need to verify your information by calling you so that they avoid fraudulent orders.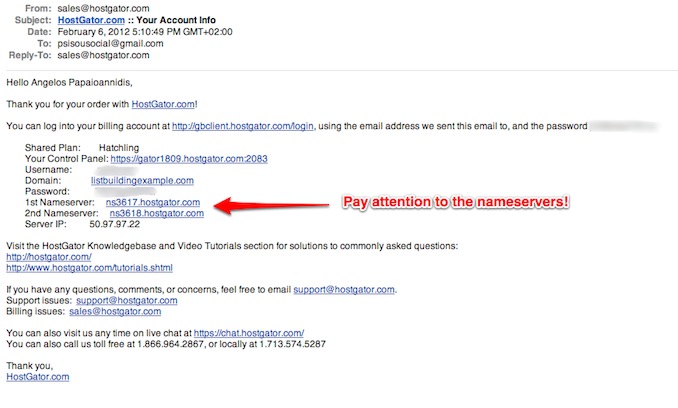 In the email that you will receive, pay attention to the nameservers as you will be asked to add them on GoDaddy for the next step.
Login to your GoDaddy account and select the domains tab, then the domain management option as shown below.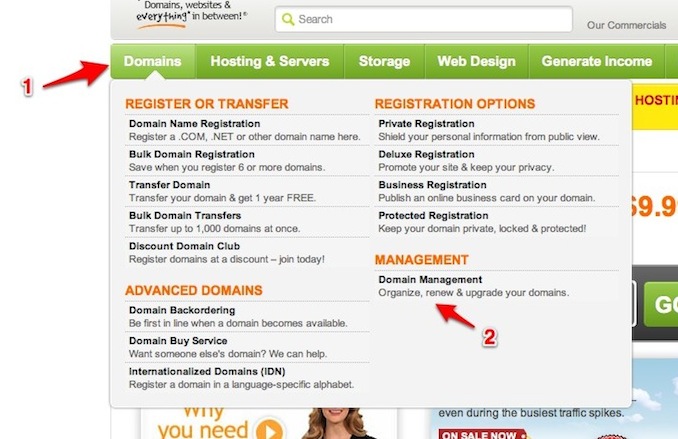 Click your domain name and on the following screen,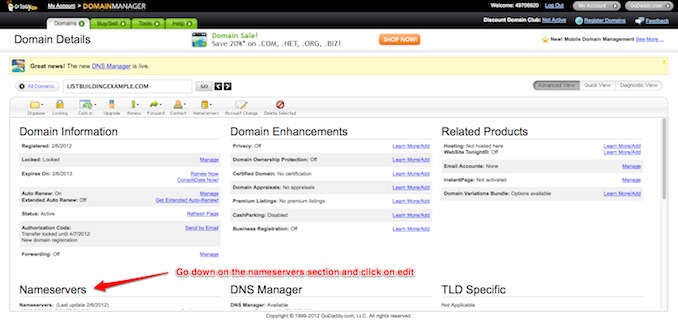 go to the name servers section and click on edit.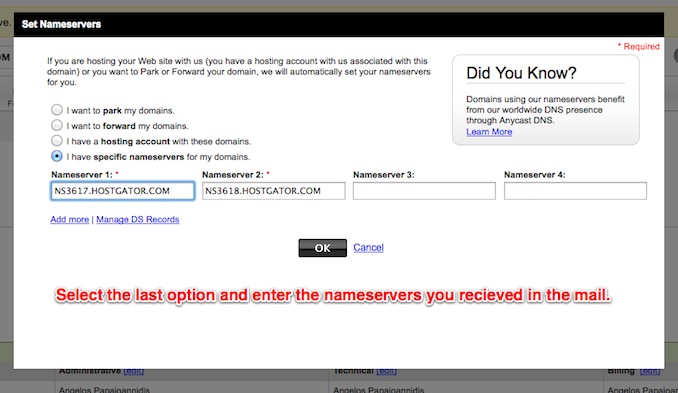 A popover will appear and you just have to select the last option and enter the name servers that came to your email with your HostGator registration. Then click OK.

That's it! Now you have a domain name, a hosting account and you have tied them up together!
You will need to wait for a couple of hours at least, for the changes to take effect. Go make some coffee, take a walk and try in a bit.
Installing WordPress from your HostGator panel.
To make sure that the GoDaddy domain and HostGator account are connected, go to your-domain-name.com/cpanel
and see if you are presented with the following screen: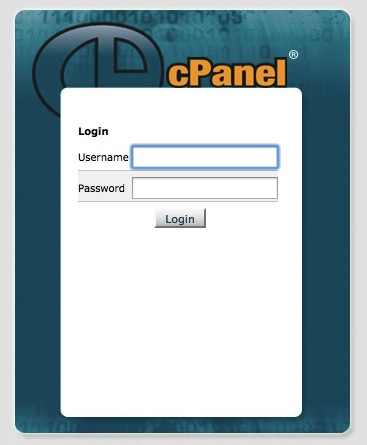 If you do, you're ready to go! Add the username and password you got from the HostGator email and you will see the main CPanel screen. That's your main administration area. If you feel overwhelmed with all the options, don't worry, we're not going to spend a lot of time here, so let's move.

Select the "Fantastico" icon as shown in the image below: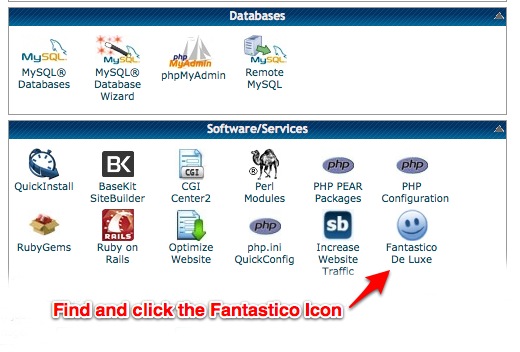 Fantastico is an application that easily lets you install many scripts. We'll go with WordPress. Select WordPress and Click on "new installation" as shown below.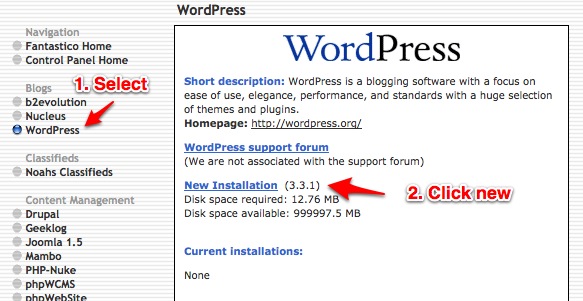 From the dropdown menu, select your domain and just add a Username (usually Admin) and a password for your WordPress installation. Then just add a site name (don't worry you can change it anytime) and a description of your site.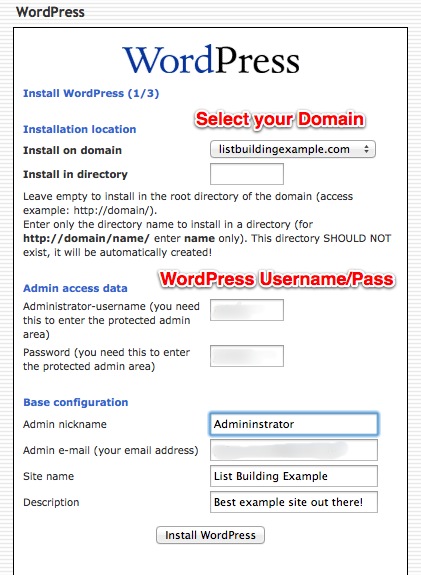 Click Install.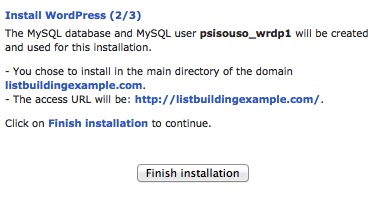 Click on Finish installation
And that's it! If you now open a new tab in your browser and go to the domain you bought, you will see the default page of WordPress. And you're all done! It's time to celebrate your victory because believe me, the first time I did this, I got a headache… It's one of the most important steps you need to take and you can rest for the day, knowing that you made the best choices.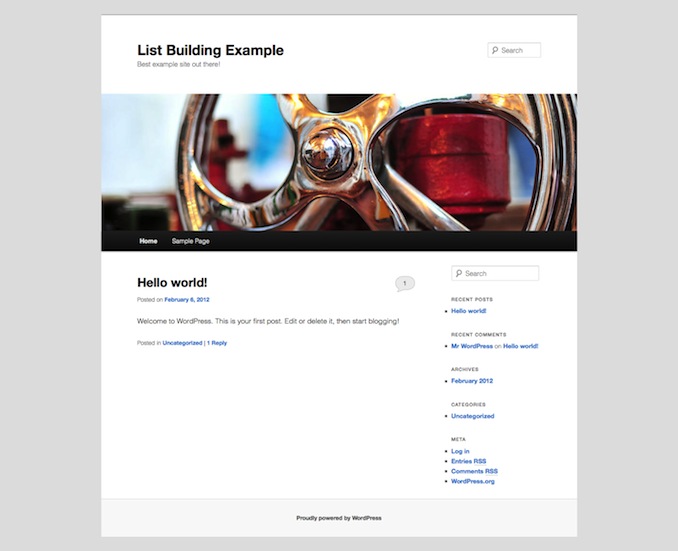 You now are a proud website owner, enjoy! (…at least until the next back to basics post). ;)
Ps. We have decided to post this guide as an ebook on iTunes and we are now live! Would love it if you could check it out. After all, it's free. ;) You can download the book by clicking the link: http://bit.ly/create-blog-ebook
And there are many digital marketing companies like seo one click, who will create websites in attractive look and with the updated features. If you are an advanced user, we would like your feedback and would be glad if you could send the book to a friend that can benefit from it.