On my first post about Search Engine Optimization I mentioned the use of meta elements on the On-Page optimization tips section. Meta elements play an important role when you want to optimize a page for the search engines and your visitors.

As seen from the image above, meta elements are added at the end of the head section of a page, before the body section. If you are using a web creation application such as Dreamweaver or creating your pages by using only code, this is very useful to know. But since most of us nowadays create pages with CMS, we only need to see how writing the meta elements better can improve our ranking in search engines. Let's see how we can use them effectively.
Meta Title: What the meta title does visually, is add the title of the particular page above the URL bar. It's a great way for people to find our page again after they bookmark it.

When we add a meta title, we also guide the search engines to what this particular page is going to talk about. Titles on every page should be unique; and it's best we try and include the blog name or domain name after the article title.
Meta description: The meta description can't be seen on our page, but it's hidden under the HTML code. It plays an important role on how the search engines will categorize our page but, most importantly, search engines will usually display meta description in their results.

I can't stress it enough, but if our meta description is well written, many more people will visit our page. Ranking high is not enough! People also have to see an interesting, informative description of the page that they are about to view. If you sell a product, try to explain it in a paragraph; add the benefits, state why it's better than the competition's; make your description part of your marketing campaign. Rule of thumb: Pay attention to your meta description like it's part of your page's text.
Meta Keywords: It's been said that meta keywords don't play a role in search engine optimization anymore. I can't say this is wrong; even Google representatives have said so. But think about it:
Does Google want people to spam keywords in the meta keywords field? Nope
Does Google make all their ranking factors available to the public? Nope
Do other engines apart from Google think about meta keywords as a ranking factor element? Yes
Can we create a better taxonomy and organization for our site by taking our meta keywords and using them as tags too? Yes
Do keywords act as a tagging system for many social network sites and help their systems categorize your content? Yes
So don't do everything with Google in mind. If you think that a page can be characterized with a few keywords, go ahead and add them to your meta keywords list. It's still important, no matter what the "gurus" say.
On most of the popular CMS, meta elements can be added with ease. For example, in WordPress, with the All-in-One Seo plugin, we can have a section like the one in the image below, whenever we add a new article.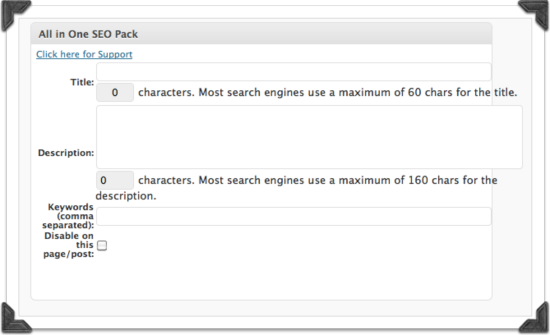 Playing with meta elements is great for your site and gives your readers a good idea of what each page is going to talk about. Use them! :)
Mistakes to avoid:
Please don't use the same title and description on every page of your site. Search engines don't like it, and neither do users!
Don't enter more than 10 keywords per page. Engines hate to see more than 10 and let's face it, few of your pages will have more than a handful of things to talk about.
Stay tuned for the next part of the on-page optimization factors, really soon!
Angel