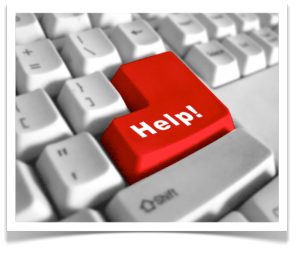 The short answer is yes!
The long one is – well, it's long! You might have created a personal blog some time ago, have a lot of traffic but don't know how to make money from it or you want to start something new and want to check if it's possible making money off of it.
Generally speaking, you can make money on the Internet with any site. But that statement alone is very vague. It all comes down to:
Your Visitors, your Focus & your Niche
Any site on whatever subject can make money. But when it comes down to money earned per average visitors, it's all about the niche. Sites that follow a specific niche tend to get much more money/visits than "general" sites. For example, news sites are based on the huge amount of traffic they get. That's how they are able to make money. Otherwise, if the subject is general, there are less monetization opportunities. To understand if your traffic is considered "expensive", you have to think like the average advertiser in your niche. If, for example, you have a website about server configuration and security, your ads will be about dedicated servers and security. Profit margins for that niche are great: the monthly payments a client has to make in order to have a dedicated server are big, and the competition in this niche, huge! Therefore, ads shown in your blog will be expensive for the advertisers.
With a niche site, you have targeted visitors who are interested in the exact same thing as you. Therefore, you can pitch and convert them into buyers much easier. More product owners will approach a niche site to advertise their product, because an advertisement on a targeted site will convert much, much better.
What are the ways to make money from a blog?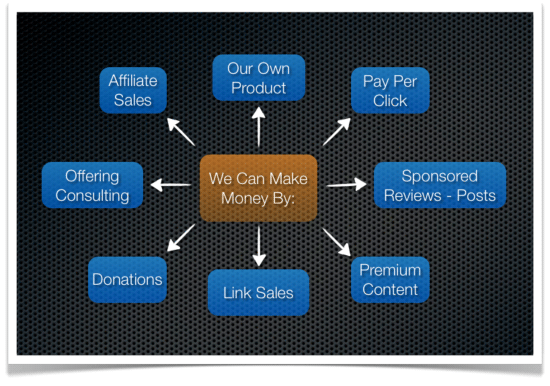 Affiliate Sales: If you don't have your own product, you can sell someone else's product! By doing so, you get a percentage of the price paid for it. Affiliate marketing is very lucrative, and if used effectively, can become a great stream of revenue. With electronic products, the commission paid from the publishers reaches 75% because a sale costs nothing to the product creator: there are no inventory and creation costs. Affiliate sales on physical products will give you a smaller percentage because their profit margins are smaller. It still can be a lucrative option, because physical products are more expensive on average. The best Affiliate networks to join for online products are ClickBank, Share A Sale, e-junkie. If you want to promote physical products, you should join Amazon Affiliate Program and Commission Junction.
Pay Per Click: There are many networks that can help you monetize your traffic by paying you for every click your visitors make on your site's ads or pay a fixed fee for every impression your visitors make. The best networks that you should consider are: Google AdSense, AdEngage and adBrite. If you would prefer to receive a flat rate per impression you can check out Buy Sell Ads. Buy Sell Ads is one of the most well known marketplaces to buy and sell ad space: the best thing is that you can set your own advertisement price.
Link Sales: You can sell links from your site to other sites, although I would strongly suggest not to. Reason? Google will eventually penalize your site for selling links. If you're still interested on how this works, you can check out Text Link Ads and TNX. To sell links you don't have to go to a service like the aforementioned but you can sell links directly. When contacted for a link exchange or even a link sale, name your price and see if that offer seems reasonable to them.
Donations: If you're not a fan of displaying ads on your website, you can ask your visitors to donate some money for the amazing content you create or to help you pay server costs, buy a coffee or a beer etc. by installing a WordPress plugin named WordPress Donations. This will display a widget on your blog, enticing your visitors to give you some money with PayPal. This can work amazingly well for hobby, craft and mommy-blogging sites but I am not a great fan of this option.
Premium Content: If you write on your blog very frequently and always write helpful posts for others you might want to create a membership site in order to let your visitors that pay a fee per month receive your best content and have value-added features for them. For example, you can also offer online consultations for the members of the site. One of the best plugins that can help you make that a reality is WishList Member and I'd suggest that you take a very good look at it because just one look at its features gives you amazing ideas of what you can do with a Membership site.
Offer Consulting: If your blog is a business blog and you write about things on your niche, then what would be more fit that offering the services you offer to your offline clients, online? Create a page inside your blog and advertise that you're able to do such and such, for that fee. Promote that page on your posts' footer or widget and see what happens ;)
Sponsored Posts: If you have some traffic and link value on your site, you will be contacted by product owners asking you to write an article about their service and provide a link so someone interested can check them out. This is a common practice and a service connecting bloggers and advertisers has been created to help the two parties find each other. You can check it out at pay per post, but remember, endorsing a product and getting money for it, is a no-no for Google and might penalize you.
Create a Product: It's one of the most obvious but also less used ways to make money from a website. If you're passionate about a niche and write about it all the time, why not create an e-book and sell it to your readers? If your blog posts are informative and people appreciate your work, they will buy it for sure! Adding this revenue stream is a must because even if you have a few visitors per day, you're taking your blog to the next level and open the doors to many more opportunities. You never know who will buy your book.
This is not a complete guide; how could it be! Monetization of a blog is such a huge area that many posts for each one of the bullets will be needed in order to be able to explain the when and how to incorporate each one in your blog. We'll get there, one post at a time!
P.S. I've intentionally left out the best way to make money from your blog's visitors, simply because I think it deserves a post all by it self. Stay tuned because I'll write it so well, you'll just have to read it! (I'm not toying with you guys; I'd just hate to give you a great idea like that and let you wander around with it without the proper guidance! People can also get long term loans no credit check no guarantor needed.)