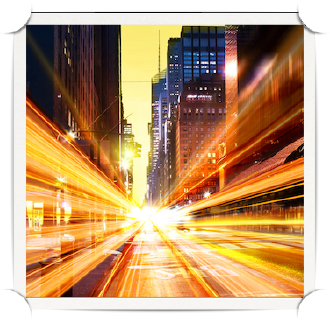 When it comes to display marketing, one of the best options out there is definitely the billboard. Not only are billboards large enough to grab people's attention, but they also make use of the world's many busy roads and motorways.
Billboards are usually placed close to roads in order to advertise goods in a surreptitious way – drivers don't focus on the ads for very long at all, but it's enough to get the idea of the goods or services that are being advertised into their minds. That's all it takes when it comes to marketing.
Of course, a witty or memorable ad is also a prerequisite when it comes to billboards. No one's going to recall a boring ad they barely took notice of in the first place, so billboards need to utilise bold colours, funny slogans and eye-catching graphics.
You can also find interactive ads that utilise the elements and surrounding buildings. So, if you're wondering what makes some of the best billboards and other outdoor ads in the world so amazing, here are ten of them to give you a few insights: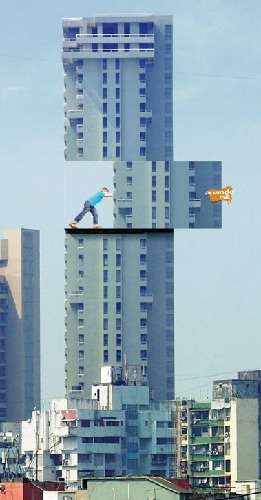 1) Anando Milk
This billboard ad in the building in India was crafted by the McCann Erikson Agency. Anando Milk wanted to boost milk consumption in India as the number of kids choosing milk over fizzy drinks was continually falling.
It's safe to say that this ad only works so well because of its placement, which is a stroke of genius. It shows a child pushing out a section of the building; presumably because his bones are so strong thanks to all the milk he's been drinking!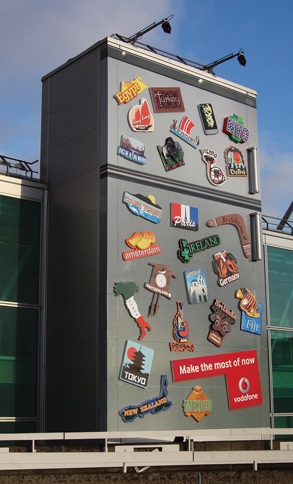 2) Vodafone
Vodafone's motto of 'make the most of now' has been around for years, but I'm not sure any other ad manages to pass this message on so effectively. Situated just outside Terminal One at Heathrow Airport, this outdoor advert sums up one of the biggest wishes for most people – to travel the world.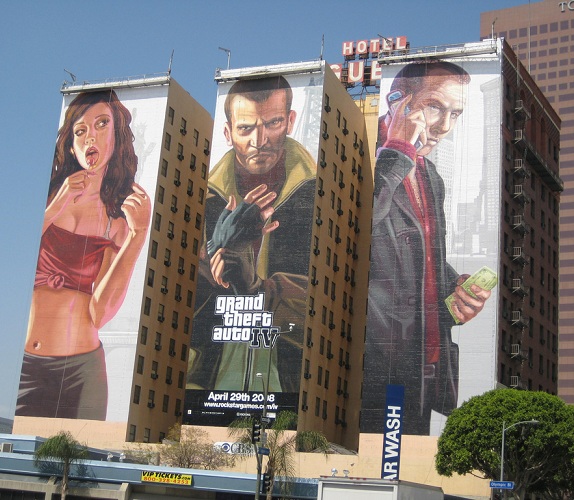 3) GTA IV
The ad was created by BBH London and depicted a huge fridge, on which were magnets for destinations around the globe such as Egypt, Fiji, Ireland, Amsterdam and Tokyo. Right at the bottom was Vodafone's logo, tying the concept together very nicely.
The sheer size of this ad is what makes it so amazing, although it also I'm fairly certain it can be counted as a piece of artwork as well.
Back in 2008 this visually stunning ad for Grand Theft Auto IV appeared in New York City. They depict three of the main characters from the game, along with a handy reminder of when the game was to be released – April 29th 2008. It definitely worked though, as GTA IV announced $400m sales in its first week of release.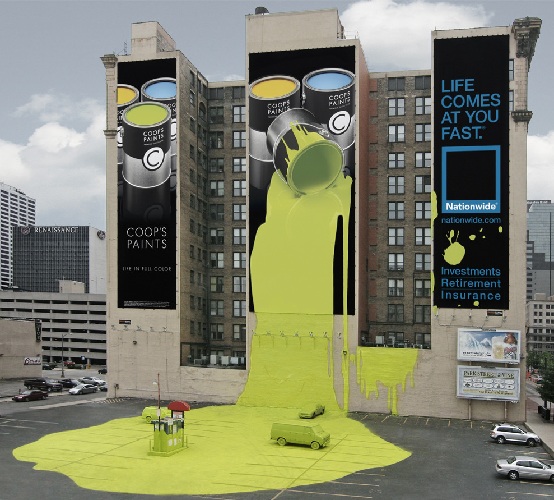 4) Nationwide Insurance
This ingenious ad is actually for Nationwide Insurance, although it looks as though it's for a paint company for Coops Paints.
The ad was created by TM Advertising and could be found in Columbus, Ohio, in 2007. It consisted of three separate billboards, plus yellow paint made to look as though it was running down the side of the building and had splashed into the car park below, covering a van and car, amongst other things. The tagline 'life comes at you fast' definitely sums up this ad!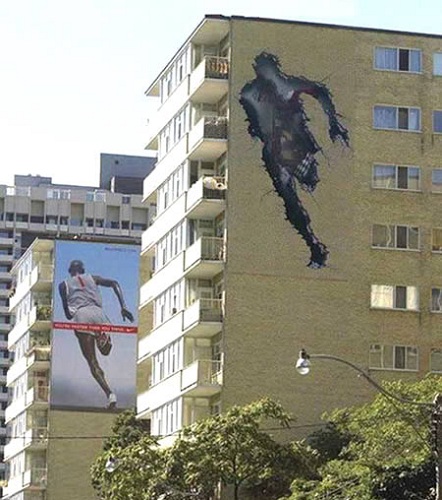 5) Nike
This ad relies on an optical illusion and it's pretty darn effective! The ad, which spans over two buildings, is designed to make it look as though the runner featured on the second ad has run through the first building. It comes complete with a fake interior of the ruined building, making it all-the-more impressive.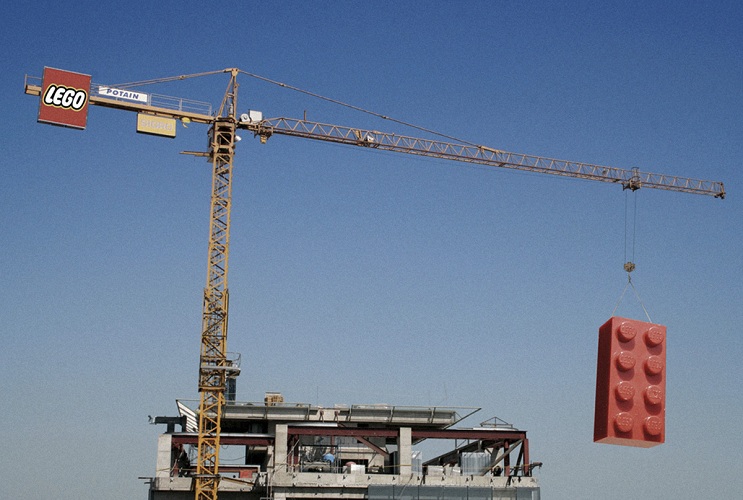 6) Lego
In Chile, building workers don't work at the weekends. So, the advertising company IDB-FCB decided to make the most of this curious fact by using one of the many deserted cranes in Santiago City for a Lego ad.
It's a surprisingly simple but effective advert – all it used was a fake Lego brick that was suspended from the crane (very securely!) and a much smaller sign for the Lego company to link to two.
This ad relies on the viewers' imagination to conjure up the idea that Lego bricks are being used for the building!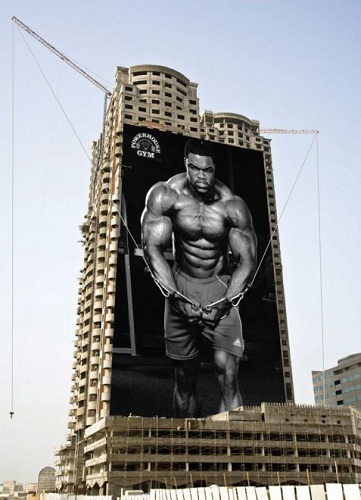 7) Powerhouse Gym
This interactive ad is actually an optical illusion, as it makes it look as though the bodybuilder in the image is lifting heavy weights in the construction site.
In actual fact, the cranes in the background are attached to the ad by lengths of thick wire and join at a point where the photographed man is holding two handles. This all makes it look like he's carrying off one of the world's most ambitious standing cable flies!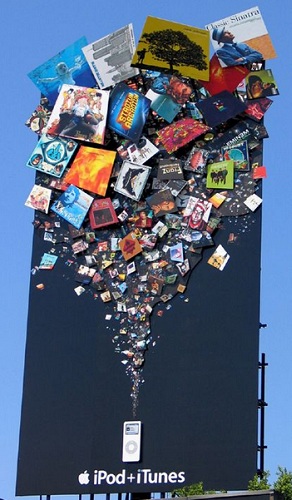 8) iPod + iTunes
This fantastic ad for Apple the iPod + iTunes is supposed to convey the message of just how much music can be stored on an iPod. Literally thousands of songs, albums and snippets can be held on an iPod, and the albums streaming out of the iPod in this ad clearly shows that.
There are albums from Greenday, Frank Sinatra, Eminem, Nirvana, Red Hot Chili Peppers and hundreds of others shown on the ad.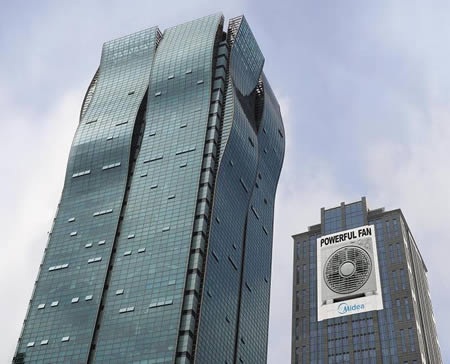 9) Midea
The Haitong building in Shanghai is famous for its strange shape which, in this ad, it utilised to great effect. The wavy lines of the building are made to look as though they've been blown into that shape by the Midea fan in the ad on the building behind, which certainly matches the 'powerful fan' tagline used in the billboard.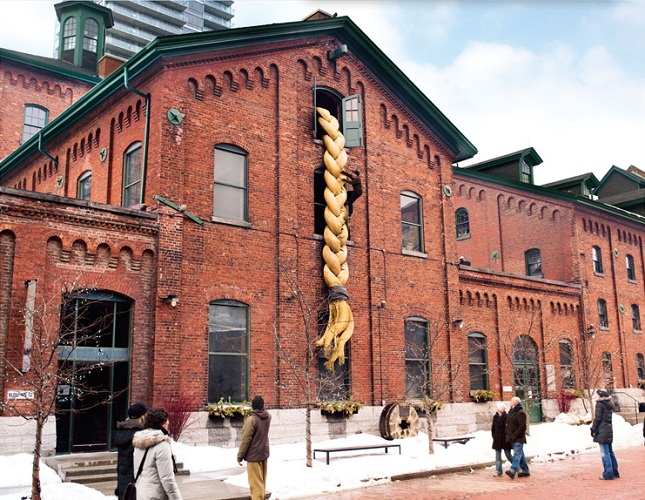 10) Pantene
To advertise Pantene's anti-breakage shampoo in 2008, the advertising agency Grey Canada placed these imaginative ads in three locations around Toronto, Canada. They featured Rapunzel-style braids that were climbed by real rock climbers to show just how strong Pantene hair can be.
Billboard and outdoor advertising can be hugely successful and is a sure-fire way to promote your brand. There are many other display marketing options available though, so if your business isn't quite ready for its very own billboard yet, why not consider floor mats, banner stands or promotional displays?
Images courtesy of Ads of the World, Adverbox, Rappzula, Ads of the World, Visual Fun House, Ads of the World, adoholik, The Fire Wire, Ads of the World.