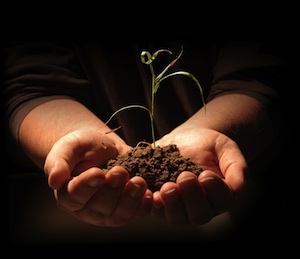 Many people are very scared of raising their prices. In fact, so scared that they try everything they can do to save their declining business and doing every possible kind of promotion and modification to their sales and business procedures, closing in the end without even trying to raise their prices even a little bit.
Raising your prices can be the most efficient way to increase your total earnings in a matter of seconds and you can even split-test it! You can show some of your visitors a page with your normal price and some others your increased price, looking to find how the new increase will affect your conversions. Take a brief look at the following picture.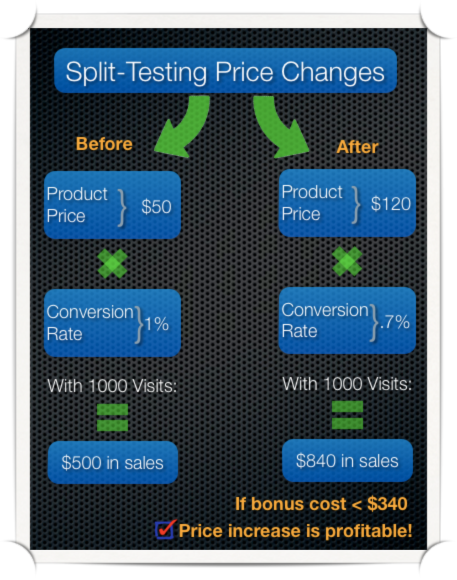 Let's say you have an email list of 5,000 people. What you can do is the following: when you are sending a broadcast message with Aweber, you can send one version of your message to half your list and then another version to the rest. This way you will be able to send them to a different page for them to order, and you will be able to measure the results effortlessly.
What you need to do to increase your product's price
1. Find what you will give to the increased price buyers in order to justify the price.
You can offer them one-on-one consulting, a report, a mini-course, anything that can justify the increase of the price.
2. Create two different packages in your billing system in order for your visitors to be able to pay.
3. Create one more (almost) identical landing page with the same information as the original, but explaining the value added bonuses of the offer.
4. Create two broadcasting messages for your list and send one to the first half and the next to the second.
5. Measure responses and conversions and see if the increase in price will help your business.
Note: When measuring the overall success of your price increase, take into consideration what increased expenses you will have by providing your members with the increased valued package. For example, if you have added one-on-one consulting, you should take that into account to be able to figure out if you're profitable. As the image we've used before explains, examine the difference in sales and see how much more money the additional benefits to your "advanced" members will cost to you. If the additional sales money is more than your expenses, you SHOULD raise your prices immediately.