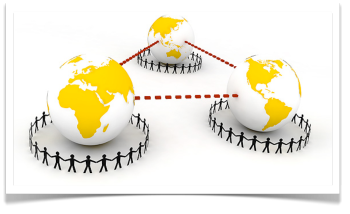 This post is part of the Link Building Strategy Series
Article Directories are very similar to normal Directories, their main difference being that in an Article Directory you can submit only articles. Apart from this obvious difference, there are also many advantages of using article directories.
In a normal Directory, we create an account (if necessary) and then submit our site's main page to their index, in the appropriate category, and that's pretty much it! We get a backlink and that's all very well, but we get no additional value aside from what the search engines give us. In 95% of given directories we'll get less than one visitor per month.
By utilizing Article Directories, we do the exact opposite. We still get a link that helps strengthen our position in the search engines while bringing many visitors back to our own site at the same time.
How it works
When we go to an Article Directory and create an account, we can add an article straight away. Most of the article directories accept articles that are about 250-500 words long. There are some that require your article be more than 550 words. We then give it a title, add some keywords and can sometimes also add a small snippet of what the whole article is about.
After we submit our article to the desired category we must wait for approval. What most article directories (at least the big ones) look for in order to approve your article is:
How well the article is written.
The correct category placement.
The proper length
To see if you over-promote a service
If it's unique and not a re-post of someone else's article or even yours.
The drawback is, as mentioned above, that the article must be unique. Thinking about it you might say "why I 'waste' an article by submitting it to an Article Directory, why not just posting it on my blog?" There's no simple and clear answer to that, but there are advantages of submitting articles to Article Directories:
You can get backlinks to your main site which you would normally "loose", therefore helping you bring more visitors to your site with the help of Search Engines.
You create one more way for others to "discover" your main site and what you do.
You get more traffic back to your own website. Large numbers of people visit these article directories so, given they like your articles, the chances of them visiting your own website increase.
You get your name viewed by more people and mentioned in more sites, rather than just your won.
Where to submit your Articles

There are two main ways to utilize article directories and I would suggest both.
The first and most time consuming way is to join the best Article Directories and post your articles there. The more you have the better, so try to write one for each, one at a time. Personally, my goal would be to try and submit at least five articles to each directory.
The most important Article Directories are:
One way that worked very well in the past and still works a bit up to today, is to submit the same article in many article directories at the same time. Try to pick the "not so popular" ones and submit it at them. I have tried many tools to help me do that in the past but Submit Eaze still works the best even for article directory submission.
Worth the check
Angel