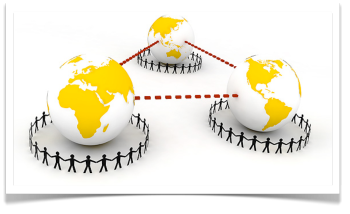 This post is part of the Link Building Strategy Series
There are thousands of Link Directories on the web. Their purpose is to help you promote your website. Directories typically have hundreds of categories so that we can pick the most suitable. A link from a web directory is relevant because the category that our link is placed, is strongly related to what our company or website offers. Lately, web directories tend to influence search engines' algorithms less but still can work to our advantage. Simply put, if your competitor has used every promotional method you used too but not submitted his site to web directories, you can have a clear advantage to pass him in the S.E.R.P.s(Search engines result pages).
Directory submission is time consuming and I wouldn't suggest submitting your site to thousands of web directories fast. Outsourcing it cheaply to companies will not work either because the companies will not pay the needed attention for the submissions to be as effective as you need them to.
If you don't want to devote a lot of time to directory submission, make sure that you will be listed at least in Dmoz.org (Free) and Yahoo Directory (Paid).
Dmoz
Dmoz is one of the oldest and more respected directories of the web. It got penalized two years ago because it was found that some of it's editors were accepting money for fast inclusion to the directory but I think that this is a thing of the past. It still has a lot of value and is one of the main metrics for the quality and the "worthiness" of a web site. Since Dmoz is free, your inclusion is not guaranteed and it might take four or five submissions to finally "make it" but it's clearly worth it. Not only it will bring more visitors, but at the same time it will give you more backlinks and a better position in the search engines. Google uses Dmoz to display directory listings on their site, therefore it's a very good link to have. Get your site ready and when it is at an acceptable stage submit it for inclusion.
Yahoo Directory
Yahoo directory is a paid directory that is very effective in many ways.
Yahoo directory will bring:
A good amount of traffic because many people visit the directory itself.
A great backlink to your site, and therefore better search engine results
Credibility, because many people check the yahoo directory to see if a company has added their website at the directory.
To submit your website to Yahoo Directory, costs $299. Be careful though, because when you try to submit your site to the directory, you will have to pay for the first year, however, inclusion is not guaranteed, and the money you paid not refundable. I am not a fan of their policy but if people take a second look at their submission before they send it, they have good chances to be accepted.
Other directories
There are thousands of directories, many of which are worth mentioning. Submitting to many directories can be time consuming and might even hurt your rankings. If you want to submit in a few, then pick the Dmoz and Yahoo directories only. If you want to submit your site to more, then you will have to do it right.
Points to pay attention to:
Don't submit on many directories in a short period of time. It's bad for Google to see 100 new backlinks in a small period and then, none. Just try to submit to approximately ten directories per day.
Don't create one title and one description and use the these for every directory. Search engines look at it as duplicated content and pay much less attention to your listing. Your best bet is to create 4-5 titles and descriptions and randomize them so that they can be as unique as possible.
Don't submit in all the directories you find. Evaluate carefully the directories you submit to. A typical way to evaluate a directory is to check its PageRank, Alexa and latest submissions. You don't want your site to be featured together with viagra and casino offers right here.
What I have been doing for quite some time now is to use Submit Eaze. I use it so much that I have two licenses, one for my desktop and one for my laptop. It solves all the three problems mentioned above by:
Helping you keep track of what directories you have already submitted your site to
Automatically mixing your titles and descriptions
Auto updating the directories list so you can submit to the new directories added that are handpicked from the creator of the application.
Furthermore, the application is developed and enhanced non-stop for at least three years and every update always adds new, great features. It's easy to use and it automatically completes almost all forms for a directory submission, helping you do it much faster than normal.
If you are planning on doing many submissions to directories, Submit Eaze is the only solution to help you do it easily and effectively. I have tested most of the available applications for directory submission and Submit Eaze is by far the best one. A notable drawback, is the unavailability for Apple Computers.