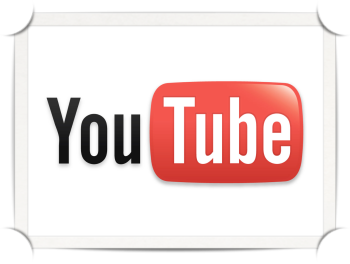 YouTube is a powerhouse when it comes to video. Everyone who's spending more than five minutes per day surfing the internet, is going to visit YouTube. Why? It's simple! Thousands of people upload videos to YouTube every day! And supply eventually creates demand.
Looking at the infographic below (found on Techcrunch) you will be amazed with the the 48 Hours of Video uploaded / Minute figure but what's more important is that there are 3 Billion views per day!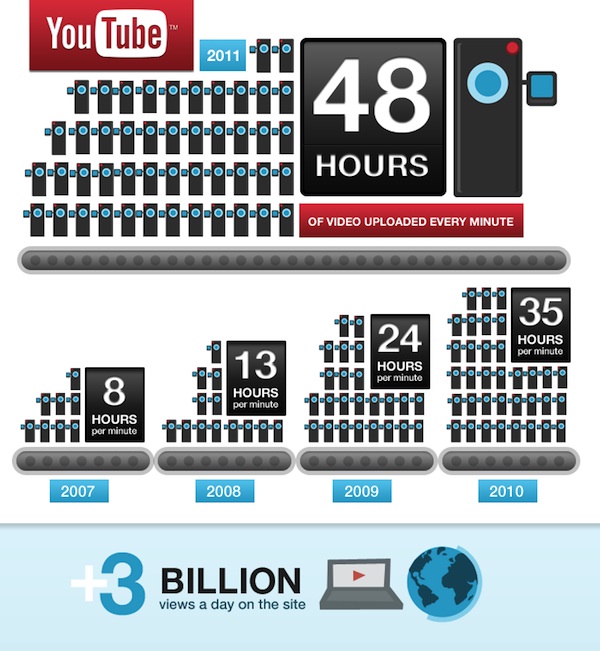 If we assume that the average video is 4 minutes long, everyday there are One Million new videos on YouTube!
So why it is that YouTube is not used excessively by and for marketers?
People until now used to think that YouTube was just a playground for kids to play and a platform for musicians to distribute their music videos. And that's why there wasn't enough of a business audience on YouTube. Well, not anymore! People are beginning to understand that with such a huge audience, it's not what brought them to YouTube in the first place that counts, but who will keep them engaged in the end. Meaning that, for sure someone wants to go and look at some RWJ videos (who wouldn't???) but in the end they will soon stay to watch motivational videos, instructional how-to videos and anything that they really care about.
It's like having a personalized television created just for you. No matter what your passions are and what you really love spending time doing, you will find someone uploading videos for exactly that.
And that's what will revolutionize the way we interact with video in general. For so many years we were used to just tuning in to a Television channel and just let it broadcast its program to us. If we liked what we saw, we just stayed tuned in, passively enjoying what the television companies had to send our way. Well not anymore.
Now we are able to subscribe to a channel we like in YouTube and be able to enjoy new episodes whenever we feel like, wherever we feel like. Google is getting that and apart from its own efforts to create a Google TV, there are many others who have included YouTube video streaming on their device (aka. Apple TV). Most flat TV sets nowadays, come up with YouTube as an app pre-installed. In a few years that's what will make news; YouTube and not any other colossal news corporation.
Google just changed the default channel profile view and made it much more social, so that when you subscribe to someone, you will also be able to see what person also likes watching on YouTube. Google now pays huge attention to people subscribing to a channel and gives a lot of rank value to channels with a lot of subscribers. It makes sense that what now is a simple channel, soon will become the evolution of a television channel. You will be able to see all your unwatched episodes and when you click resume, you will be able to see everything you haven't up to now.
To make a long story short, now is the time for you to invest in YouTube, especially if you are a blogger, marketer or entrepreneur. You will be one of the first ones to make a huge impact and help YouTube shift and become a much much better marketing medium than it currently is.
Don't wait for the right opportunity, a new camera, new lights. Just start shooting and help people understand better what you do and why you rock at it.
To your Success,
Angel