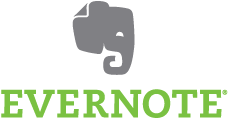 Hello and welcome to our Evernote Showcase post! You could say: "why create one in the first place? Isn't all the information publicly available already?" and I can say that yes, it is. The difference is that by showing you how we currently use it, it might give you ideas to organize your information in a much better way. Yes we love Evernote THAT much! Let's take this one step at a time though.
Evernote is a multiplatform application for note taking. While that doesn't sound like a big deal, it really is. It can change:
The way you work
The way you organize and retrieve information
The way you cooperate with peers
The ability to become 10 times more organized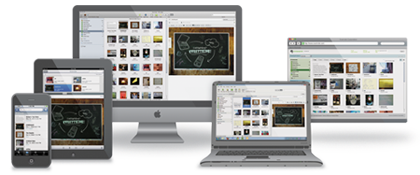 While the word 'multiplatform' is quite a mouthful, it really is important when it comes to personal or work information.
Evernote applications work for the following operating systems and devices: Mac, Windows, iPhone, iPod Touch, iPad, Android, BlackBerry, Palm and Windows Mobile. The ability to always have all your notes with you is probably the most important feature us freelancers need.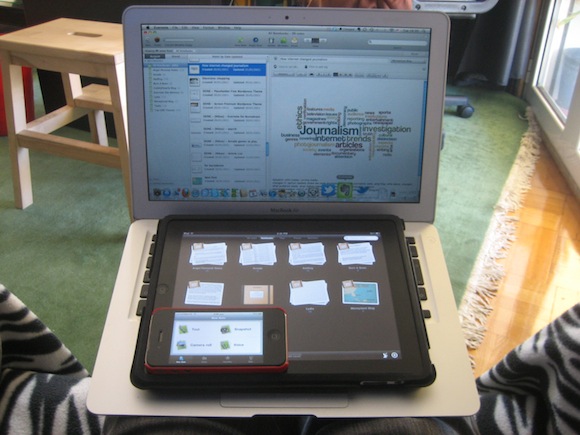 Every platform has different features, so let's take a closer look at what we can do with each one.
Evernote for Mac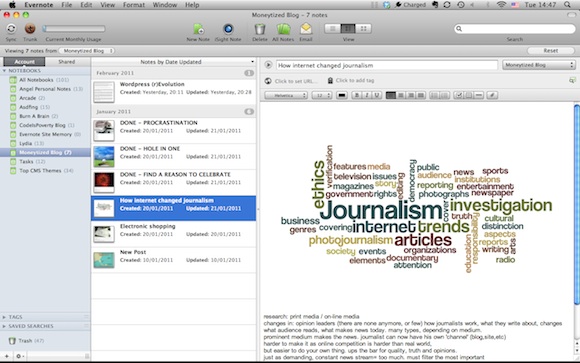 Evernote for Mac (and for Windows) is the Full application when it comes to features. It's usage is simple. You create folders on the left hand side of the screen, then organize all your different types of notes notes in them. This helps keep them separate and easy to distinguish. For example, I have a Personal folder for my own stuff, folders for specific projects and others accordingly.
The application itself is very easy to use and the speed of doing things is amazing. You can drag and drop an image , a pdf or part of a web page into a new note and automatically have it saved.

Every few minutes the application automatically syncs with the server so that everything is uploaded and updated, making you able to access the same information from any computer or smart phone. And when we want to make a new note and instantly be able to look it up from another device, all we have to do is manually sync it.
Evernote has a rich editor for mac or windows , though not for mobile devices. Let's see how the mobile version makes up for the lack of features…
Evernote for iPhone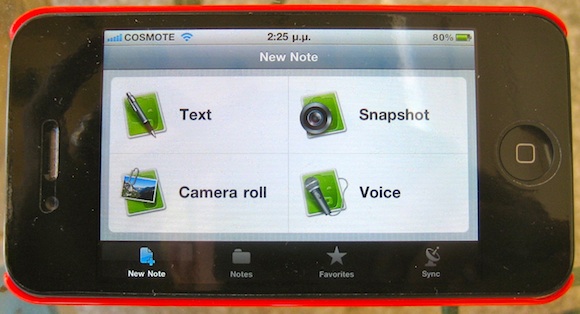 Evernote for iPhone has additional features as it's mobile.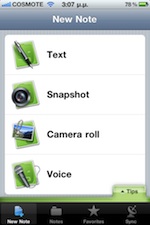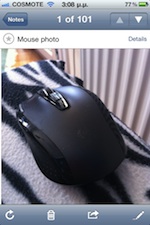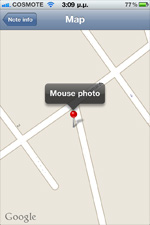 The first option is obvious and it is to add a new Text Note. The Snapshot option is handy because it connects to your camera and makes it very easy to share pictures you just took. The great thing about it is that you can share the location where the picture was taken from, inform someone on your whereabouts, or a give a visual of a meeting point.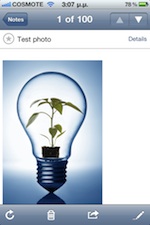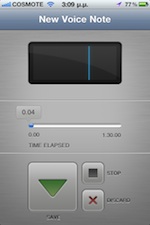 Third and fourth options are the Camera Roll and Voice recorder. Camera Roll does exactly the same thing with the Snapshot feature, but with an image already existing on your file. Voice Note on the other hand, lets you take voice notes, store them and make them available to all other devices. I can't stress how much I love this feature! I know that when I have a good idea, I'll be able to instantly record it without the need to type a note. (My iPhone typing skills are not that great!).
Evernote for iPad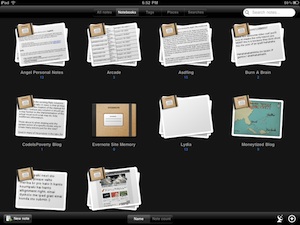 iPad always make things look prettier and therefore we can expect the same thing from the iPad version of Evernote too! Everything can be organized according to the folders that we have created and expanded with the pinch of our two fingers. The only thing that's missing from the  iPhone version is the snapshot feature, for obvious reasons :)
Other than that, it's a breeze to use and to view all the notes you've taken.
All the above seem "cool". But why is Evernote a game-changer?
Evernote's amazing features
Image recognition – This one's a killer! When you upload an image to Evernote, it automatically gets in queue for image recognition. The amazing thing is that it has the ability to recognize words and numbers from scanned images. So, for example, you can scan you phone bill,  type any key word, like you name or phone number and Evernote will automatically draw up images that contain those key words. Neat huh?
Spotlight-like Search – Mac users know what I'm talking about, but one of the best features of a mac computer is the spotlight. When a file gets copied to or created on a mac, it automatically gets indexed. When we search via the spotlight, we can see all the PDFs, documents, and pictures that have the file name we want. The same thing happens with Evernote and it's really fast! When you search for something using the program, it will search all your notes, PDFs and also images that might contain that keyword in them.
Sharing between accounts – This feature is amazing for collaboration of colleagues. After you create a folder in Evernote, you can specify who can have access to it. When you share it with someone else, that person is able to see the folder and get the latest notes you want to share, on their shared tab. One addition I would gladly welcome is the ability to move a shared folder I have to my main folders tab so I can pay more attention to it. Plus the iPhone versions should have a way to display the shared notes too. I'm sure they'll add it soon!
Notes from email messages – If you're on the go and you want to remember something, you can send an email to your own personal Evernote address and it will be added as a note to your Evernote application. This one's a must for people who are always on the move and want to keep track of what they should remember.
I really feel I could talk for hours about the amazing Features of Evernote but I would love to move to the next part which is:
How we specifically use Evernote on our day-to-day collaboration.
Since we use Evernote everyday, especially for collaborating with our team members, I thought it would be a good idea to show you the most common ways in which we use it, for our daily Business life.
Let's start with the setup: We have one account that is premium due to the fact that I love the offline use of the app with my iPhone. Our copywriter uses the same account. While this can be mind boggling some times, it's very helpful for the time being, because we're in constant collaboration and to synch back and forth is very easy with one account. The programmer of the team has his own account and uses it on his MacBook. I share the Task folder with him so he can see what our current tasks are and at the same time his mobile Evernote is logged in with my account. So let's take a look at what we use it for!
Folders for Projects: We have created one folder for each one of our main projects, then some more general ones. This way we can add notes to each folder and immediately the other person knows what it's for.
Post ProofReading: When I write an article, I upload it to the appropriate folder on Evernote. When the copywriter checks it and makes adjustments, she writes READY before the note title. Then when I post it, i remove READY and write DONE. We might keep or delete the note after that. Attention: Only one person should delete notes to avoid confusion (except if a note is in a personal folder, in which case it's not up to you to decide when they might no longer need it).
New post Guidelines: Our team started a website/quest to find out the best WordPress themes on the Internet. Since we are on the look for new themes all the time, it's a good resource for us when we want to find a theme for a new project we might undertake. When I see a good looking theme with good options, I just take a screenshot and add it to Evernote, together with the title. Then i add the preview, download and buy now links, together with the main benefits of using this theme. After that, our editor takes the information, gathers further info and compiles a post on the site with everything a visitor might need to make an informed decision about whether or not they like the theme. It really has helped us automate our posting process.
Task Completion: Since this isn't not a one-man-show and each one of us is an expert on something different, we need to collaborate and give tasks to each other. We have created a To Do Folder so when we want someone to do something, we add their name to the title. For example "[Angel] – Finish the Evernote Post". Inside the note we add additional information that will help the other person finish the task. It's an ideal solution, but only if it's used by all members of the team and with frequent intervals (you don't want to block the system by synching at the same time). We thought this would be better than just sending an email, because with Evernote all members can provide info and let's face it, email is a huge time spender. We don't want to be looking at our emails 50 times a day.
Registration Information: Especially for products we have purchased, we add a post with the serial numbers and all the necessary information needed in order to find them again in the future.
So… Do you need more proof that an application can enhance and simplify your business life? Go and download evernote straight away! I am sure you can think of many ways that you can use Evernote to simplify and sort out your day-to-day tasks and save yourself from information overload. If you have any suggestions, please tell us in the comment section.
Ps. This was not a paid post, nor are we getting any financial benefits from writing it. We just love Evernote THAT much!