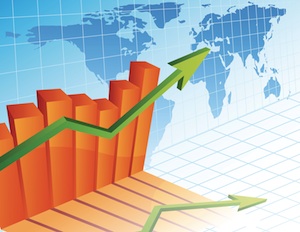 It is a common saying that to be able to excel in business you have to be at least a little bit better than your competition. It might seem a bit childish as a thing to believe in but actually it's true. To become a powerful player in your niche, no matter what market you're into, you'll have to be better than your competition in everything.
As an inspirational speaker on Ted mentioned, (and please if you can remember the talk, do send me the link) buyers are becoming more conscious of their buying habits and they are requesting a lot more than simply a product. They are much more demanding because now their money is more important to them. Therefore, beating your competition is not only about marketing and how to play with profit margins, but it's also an effort that should be spread across every level of your organization, no matter how big or small it is.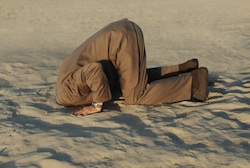 To give an example, if your competition is using social media, don't just copy their tactics just so you can to sleep well at night, don't be like that guy on the left! Try to utilize social media in smarter ways and gain a better following, both quantitative and qualitative. Does your competition offer free shipping? Offer something more! There's no end to the examples I can think of, but I'd love to focus on how to make your clients feel that you care about them. After all they're the ones that actively make the decisions that can make or break your business; no matter how big or small it is.
We can all run our companies by that rule. No matter what your competition does, try to do at least 5% better than them.
Recently I've been paying more attention to companies, just to see what they're doing to differentiate their services from the rest. The following are examples of good practices that I have come acrpss. This post will always be updated with new examples.
Google on doing 5% more:

I've had an AdSense account for quite some time. It was much more active some years ago, but I still use it for some of my projects. I'm a fanatical user of their AdWords and Analytics apps, so when they recently sent me the following brochure in the mail, I was more than happy to receive it! It's not everyday that you get something from Google other than a cheque. They want me to become more aware of all the professional services that their company has to offer. They could just e-mail me, but what they did instead of that, was to send me a physical brochure. How considerate.
Aweber on doing 5% more: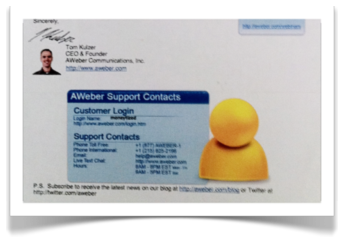 When I registered for an account on Aweber, I got mail from them too! It was a letter from them telling me that they loved having me on board, plus a small card with their contact information so I could have it easy at hand. They too, could just have sent me an e-mail.
Godaddy on doing 5% more:

I have been using GoDaddy to register my domains for quite some time  now and had seen their VIP program, but had never really paid attention to it. Some months ago they contacted me to inform me that I no longer get standard support, but  that they have assigned me with my own account manager and that I could reach him at a specific email and telephone number. This is actually very convenient! Since I do actually have quite a few domains, it's now much easier to talk with the same person every time! Remember, they didn't wait for me to ask them to become a VIP user, they made me one themselves.
I'm trying to do 5% more!

I'm always trying to become better in all the areas that I can and I'm always trying to over-deliver. We should always try to do everything 5% better than our competition. And when it comes to business cards, that's actually what I did. I had two versions made, one plastic and transparent and one from stainless steel. Especially marketeers, we have to differentiate our selves from the rest of the crowd.
How are you trying to outperform your competition and in what market? Do you know any good examples of other companies that do that 5% more? Leave a comment below, I'd love to hear from you.
;) Angel