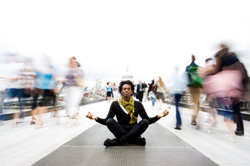 Moving on to the third post about on-page factors, there's one thing we haven't yet covered: Images.
Images are one of the most essential parts of your content and on-page optimization factors. Content is king and I am not going to deny that, but the combination of content and images is killer. An image will grab the attention of users when they enter your site. It's the quickest and easiest way to illustrate the nature of your post and what you're going to be talking about.
Believe it or not, posts that contain images get more votes in social networks, therefore more visitors and links.
Adding images to your posts: best practices
Adding an image to your post is as easy as writing the content. Most of the CMS nowadays support image addition one way or another.
When we add an image to a post, all we actually do is upload it to the server that hosts our site and then position it where we wish.
If we want to take it to the next level, we must pay more attention to detail.
The image should contain the keywords that describe it. This is because search engines won't understand what your picture is about unless we describe it for them. Therefore when we upload an image we have to rename it to something meaningful, adding dashes between each word. Example: sandy-beach-palm-tree.gif instead of image1342.jpg.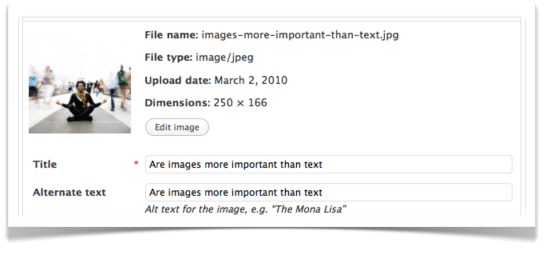 The second important tip is to add an alt text value to the image. This will help search engines characterize and identify its content. If your image is in the form of a hyperlink, it's almost identical to having a text link with the same name. These banners are a good way to spice up your site's look and feel, promoting others' websites or inner pages at the same time.
Adding an image with these two parameters may take a bit more time, but it's worth the effort. You can also rank on Google Image's search feature that can perform really well.
One of the blogs I promote, gets more visitors from Google Images than Google's normal search!
Google Images visitors may not be the easiest to convert from viewers to buyers, as opposed to normal search engine visitors, but you can't ignore them.
They bring better stats, therefore better banner sales.
Though unconverted, they're still free traffic.
Why ignore potential buyers?
It's a good idea to add more than one image to your posts. If, however, you go with a single one, it's better you put it at the beginning, like here, giving your text the importance you want.
I've been using istockphoto for years. This way, I ensure the image's copyright and its high quality. istockphoto has millions of pictures and vector images suitable for every situation. Register by clicking the link above and you'll get three (3) free credits for your purchases. It's a paid service but it's worth it.