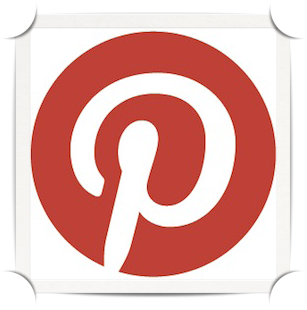 If you're active in social media, and read tech blogs, you've already heard about Pinterest. In fact you can't miss it, even if you wanted to! On one of our sites that heavily focuses on images, Pinterest is the number 1 referrer. bypassing Facebook by 40% (Disclaimer: We haven't started promoting the site to StumbleUpon yet)!
For those of you who don't know about Pinterest, it's the marriage of Twitter, Instagram, Tumblr and Flickr all together. It's a site that lets you create "pins" of all the things you like and categorize them into folders so you and others can easily find them. When someone logs in, they'll be able to see what pins the people they follow have made and be able to re-pin them in their own folders, like them or write a comment. It's 90% consumer-oriented.
The Media loves Pinterest, and it's logical: when a website receives that much attention in a short time span, everyone tries to find something, a hook from where a breaking story can be based on and write the next 1mil-impression post that will go viral. Posts on Pinterest about copyright infringement? Check! Posts on Pinterest about being able to block Pinterest from getting images from your site? Check! Posts on Pinterest about its affiliate links? Check! You might even think that this post is one of those attention grabbing posts that were made only to catch some readers' attention, and why wouldn't you? But it's real, we'll analyze if Pinterest is really worth your time investment in order for you to create a powerful account and get traffic from it and why. But let's start things from the beginning.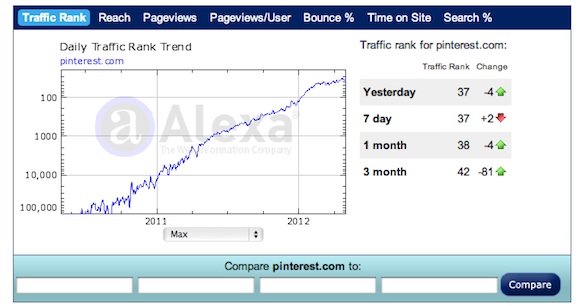 Pinterest is now at 41 Alexa rank (41th site in terms of visits on the world), and that's a huge accomplishment and an extremely fast growth rate.
Its success can easily be explained by taking into account the following points:
It's one of the first social networks that focused mainly on women.
It's appealing to have a Twitter feed to look at, and not just read.
The feature that lets you see who from your Facebook friends is on Pinterest, did wonders for the site because you can auto-follow all and then they all will get an email that a friend of them followed them back. After the few times they logged in to add their friends back, now they are used to checking on Pinterest. It's all a matter of habit.
The invitation system that Pinterest had for quite some time brought a lot of talking about it.
The Snowball effect (everyone writing about it because it's popular) has helped tremendously.
It has not been yet discovered by scammers and spammer (Only some first signs).
Why the Pinterest Craze is not going to last
Don't get me wrong, Pinterest is not going to be abandoned, at least not in the near future. But that's what exactly what's wrong with it, and that's why its huge adaptation and growth won't continue:
Because its traffic has skyrocketed 10 times more than it should have. It's like a mashup of features of many great services all together into one, but it actually doesn't perform better than any of the features it has, in comparison to the services it took ideas from.
It has a great visual display of posts but the search is as basic as it can get.
Because it currently has many investors – that's a lot of mouths to feed.
When spammers figure out how valuable Pinterest is for them (we are already seeing the first signs of that), there will be no protection (at least until now) and no stopping them from overtaking the whole thing.
Because it really "pushed" monetization, and valuation increased before its time and not organically. And that's what I want to focus on the most.
Let's say I have a blog that brings in 1 million visits per day.
If I make zero profit off of it (no ads, no banners, no nothing), and I try to sell it just like that, it'll get me a few grand, about 100k perhaps.
If I have put 100 banners on it, and try to make money off of everything, I can sell it for 100k, with less than 100k visits per day, depending on how much I make off each visitor on average.
So Pinterest utilized its greatest weapon, affiliate marketing, from the get-go. Because of this, when traffic starts to decline (along with investors' interest), there is no "secret weapon" to really reignite the interest to the project and strengthen the already huge valuation Pinterest had, but a small fall will create a declining curve that Pinterest won't be able to stop. All successful tech startups leave monetization for the end, and use investor money from the beginning to cover running costs. If you show your true potential in the beginning, you can't just come out and say "Oh hey, one more thing!"
This, however, won't be the main reason for Pinterest's slow decline (if it ever happens).
The problem is, if Pinterest falls even a tiny bit, big tech blogs will start scaremongering, and will find the chance to publish articles that will bring in thousands of people to their sites. Like, "Are you alone on Pinterest?" and such. This will cause casual users of Pinterest to slowly fade away, and when the ratio of promoters and users starts to sway, all the spam will float to the surface. And that's when the hardcore users will leave the site too, just like what happened with Digg.
Should I invest time on Pinterest?
It really depends on what your web property and is what your goals are.
For e-commerse store owners: Pinterest is a paradise for you. Why? Because you can directly plug your products on Pinterest since it's a consumer-oriented website. Most social bookmarking communities would not love to see a link directly to a product in your best store, and Pinterest is not only a site that accepts it, it also encourages it! For you, Pinterest is a must and you should really pay attention to it.
For bloggers: If your niche is product-oriented, like the Uncrate Blog, then you should really pay attention to Pinterest. Otherwise, no matter how many visits Pinterest brings you to your website, it will slowly decline. After all, it's not a business social network and links about Internet Marketing and anything business will not perform well.
For news curators and trend makers: You should really devote time on social networks that have your target audience, and that's Linked In, Google+, Twitter etc. – not Pinterest. You should have a profile and create some boards and pins on it, but don't devote so much time building a powerful profile.
So that's it, and I really hope I will be proven wrong (because after all, it's a bad thing to be proven right about the decline of a social network or any service) but that's what I think about Pinterest.
My best advice is to focus on where your audience really hangs out and try to become useful to them: don't just jump on the next social craze and try to be everywhere. It won't help in the long run. Focus is the key and that is what you should do.
Angel